Varicose vein laser therapy
Why varicose vein laser therapy?
Endovenous laser ablation is a cutting-edge, mini-invasive procedure for the treatment of superficial venous insufficiency, which causes varicose veins. It is an ultrasound-guided technique by which a thin catheter is inserted into the affected vein using a needle. This modern technique completely avoids surgery-related complications and the subsequent aesthetic damage, allowing the patient to enjoy an optimal level of comfort with minimal pain and discomfort both during the procedure itself and afterwards. The laser catheter emits energy into the interior of the varicose vein, causing irreversible damage but without the tissue trauma and potential peripheral nerve damage that was characteristic of the traditional "stripping" technique.
A painless solution with varicose vein laser therapy
The Vein Care Team can offer an effective, fast, personalised and painless solution to venous disease, and our qualified specialists will be happy to explain the best treatment options to you following a preliminary outpatient visit. Using only the latest generation laser fibres, the Vein Care Team currently performs more endovenous ablation procedures than any other group in Italy (more than 600 varicose vein laser procedures every year).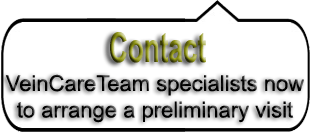 Make the most of your varicose vein laser treatment with a relaxing break in Turin
Your varicose vein therapy could give you the perfect opportunity for a truly relaxing break in the historic city of Turin.

Whether for your preliminary visit (essential to confirm the diagnosis and to decide on the best therapeutic course of action) or the procedure itself (you will almost always be advised to resume walking as normal one hour after varicose vein laser ablation therapy), the experience and professionalism of the VeinCareTeam surgeons will allow you to forget that you are undergoing a medical procedure and to transform your varicose vein laser treatment into a chance for a relaxing break, whether alone or with friends or family, in the city of Turin steeped in history and with a plethora of tourist attractions to choose from. The VeinCareTeam staff are on hand to provide you with all the support and information you require during your stay, from affiliated hotels and transport links suited to your preferences and needs, to itineraries and tourist attractions for you and your friends/family.