Specialist hospital for varicose veins
A state-of-the-art hospital for varicose vein treatment
For an effective, personalised, fast and painless solution to you varicose veins, the Vein Care Team is a team of qualified specialists that has been interested in vascular diagnostics and varicose disease surgical therapy for years, and which now leads the way in the study and application of varicose vein treatment in Italy.
The VeinCareTeam performs radiofrequency ablation, laser ablation and sclerotherapy at the Clinica Cellini of Turin, where it founded and developed the Vascular Surgery Unit in 2008. As a result, Clinica Cellini can be considered a state-of-the-art hospital in this sector; an actual specialist hospital for varicose veins where the Vein Care Team surgeons (who only treat varicose veins, are experts in the ultrasound technique and ensure they are constantly up-to-date often through study visits in other countries) today perform more than 600 procedures per year.
The advantages of a hospital with a varicose vein treatment unit
The variety of varicose veins and the unique characteristics of each individual case require as personalised an approach as possible. The advantage of choosing a VEIN CARE TEAM specialist is the assurance of "tailor-made" care to find a solution to the problem. The endovascular techniques used by the VeinCareTeam are indicated by NICE (National Institute for Health and Care Excellence), the renowned British scientific research institute, as the most appropriate for the treatment of varicose veins.
As a hospital of excellence, by deciding to host the leading team of specialists in the study and application of varicose vein treatment in Italy, Clinica Cellini has since become, and achieved international recognition as, the best specialist hospital for varicose veins.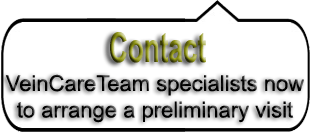 Make the most of your treatment at the specialist hospital for varicose veins with a relaxing break in Turin
Your treatment at the specialist hospital for varicose veins could give you the perfect opportunity for a truly relaxing break in the magnificent city of Turin.

After a preliminary visit (essential to decide on the best therapeutic course of action), you may decide to undergo a procedure using the most advanced endovascular techniques (laser, radiofrequency, sclerotherapy), and you will be encouraged to resume walking as normal one hour after the procedure. The experience and professionalism of the VeinCareTeam surgeons at the specialist hospital for varicose veins will allow you to forget that you are undergoing curative therapy and to transform your treatment into a chance for a relaxing break, whether alone or with friends or family, in a magnificent city steeped in history and with a plethora of tourist attractions to choose from.
The VeinCareTeam staff are on hand to provide you with all the support and information you require during your stay: from affiliated hotels, itineraries and tourist attractions for you and your friends/family, to transport links to and from Turin according to your preferences and needs.